LRIT Conformance Test Reports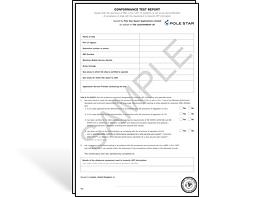 LRIT Conformance Test Reports (Certificates) are the only proof of LRIT compliance. The document, which is issued on completion of a successful test, is a mandatory requirement for radio surveys and inspection. This document is required to be kept onboard the ship.
To date, Pole Star has issued nearly 25,000 Certificates on behalf of over 90 Flags. Standard processing time is three days, but to assist ship operators with urgent requirements, Pole Star offers a Fast Track service, which allows for the Certificate to be issued within 24 hours.
---
Find out whether Pole Star certifies for your Flag:
---
Four simple steps to obtain a Conformance Test Report


1. Once your transceiver has passed the LRIT Conformance Test, Pole Star automatically forwards all successful test results to your Flag.
2. If we certify for your Flag, download the LRIT Conformance Test Report Order Form (available in the sidebar to the right of this page). Complete and send your Pole Star order form to lritcert@polestarglobal.com. If your Flag issues LRIT Conformance Test Reports, please contact the Flag.
3. Once we have received your order form, we will send you an invoice.
4. Your LRIT Conformance Test Report will be dispatched as a PDF by email and an original by courier within 3 days of receipt of payment.
---
FAST TRACK service
To assist ship operators with urgent requirements, Pole Star offers a Fast Track option. Provided your Conformance Test Report order form is received before 15:00 GMT, we guarantee you will receive the document in PDF format by email before 15:00 GMT on the following working day, after payment is received. Hard copies are dispatched via express courier within 24 hours. This service incurs an administrative charge.