About Pole Star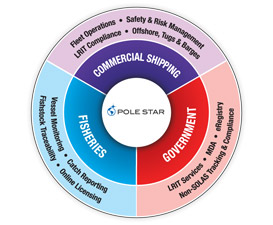 As the leading provider of fleet management, ship security, and fisheries monitoring systems to the maritime industry since 1998, we understand the needs of the maritime sector, and develop innovative and reliable systems that enable our users to monitor and manage their assets worldwide.
From our headquarters in London, and via a network of offices located at key international maritime hubs, we have earned a reputation as the principal provider of remote fleet management, ship security, Long Range Identification and Tracking (LRIT) and fisheries monitoring services.
We merged with Absolute/AMTS in 2011 and the combined company now monitors approximately 40,000 ships on behalf of 1,100 clients located in over 90 countries.
With innovative solutions offered across the maritime market – to the commercial marine sector, governments, maritime administrations and fisheries – we have a unique understanding of the industry and our customers. We invite you to discover why 1,100 companies, 46 flags and fisheries authorities in 45 countries and territories choose Pole Star's monitoring solutions for their mission-critical operations.
---
Key Facts
Privately owned UK company
Offices in London, Boston, Panama, Hong Kong, Singapore and Australia
Multinational team of 100 people, fluent in over 24 languages
Among Britain's fastest growing private technology companies
All products are supported 24/7 by a dedicated team of specialists that offer installation, technical and regulatory support and training
The world leader in LRIT testing with over 40,000 LRIT tests completed
Data Centre provider and manager for 46 Flags
Authorised Service Provider for over 90 Flags
Certified Partners with Inmarsat and Thrane & Thrane
---
Products & Services
Under its Purplefinder brand, Pole Star develops innovative and reliable systems that enable its commercial shipping customers to monitor and manage their assets worldwide. These products provide shipowners and managers with the information they need to maximise operational performance and safeguard their assets and crews.
Pole Star operates LRIT data centres for more than 40 Flags, including Panama, Singapore, the Marshall Islands, Liberia, Australia and Canada, as well as providing LRIT Conformance Testing and Certification for more than 90 Flags. The company's substantial technological resources enable the rapid delivery of superior quality, innovative products to governments.
Through its Absolute Software™ brand, Pole Star provides fisheries Vessel Monitoring Systems (VMS) to fisheries authorities in more than 30 countries, allowing them to monitor compliance effectively over large, remote areas. Specialised features include the calculation of fishing activity and quota data to support environmental programmes for the sustainable harvesting of fish stocks. Currently monitoring over 6,000 commercial fishing vessels, operating under 35 Flags, and providing catch reporting solutions to an additional 2,000 vessels, Pole Star's VMS solutions are the preferred choice of fisheries authorities worldwide.